We will have an early release on Friday, June 2, 2023.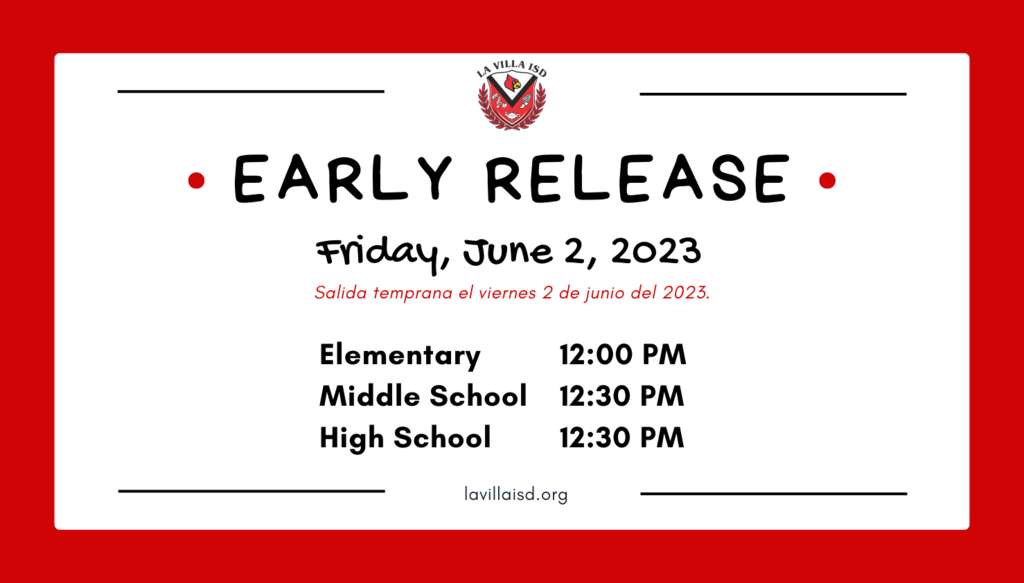 There will be no classes on Monday, May 29, 2023. Classes resume on Tuesday, May 30, 2023.

There will be no early release on Friday, March 31, 2023. It will be a regular school day, and all students will report to their classes as usual.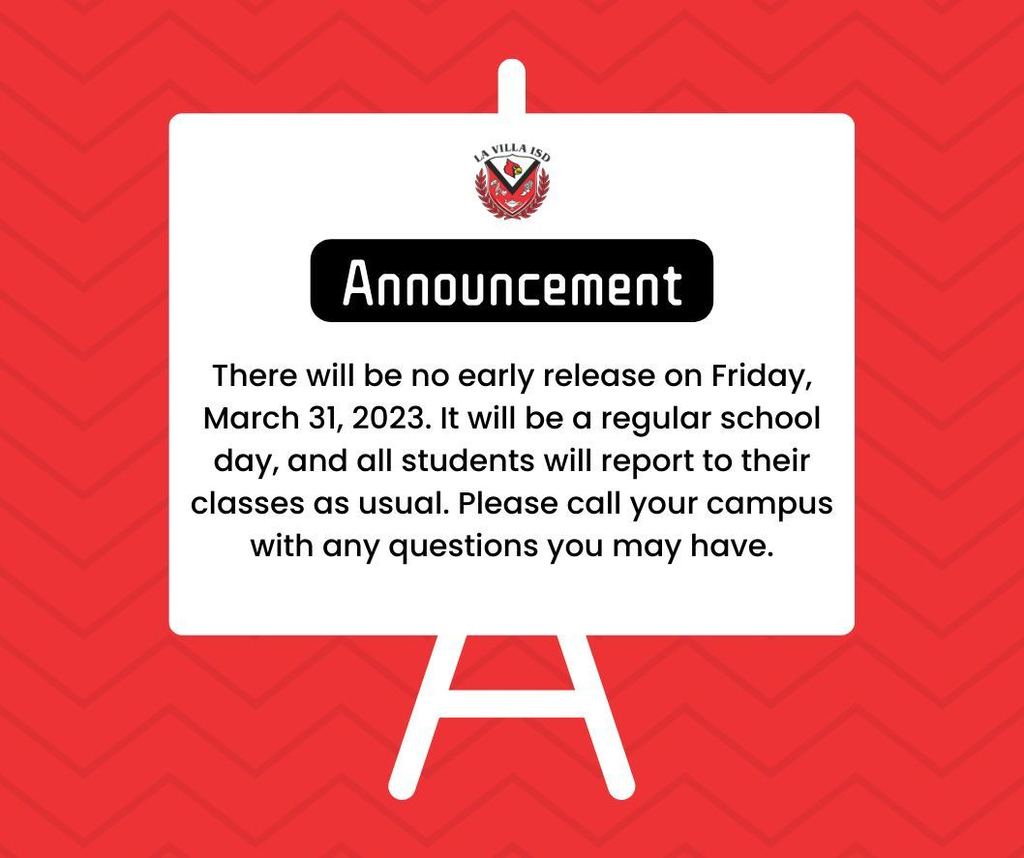 La Villa is the new UIL Academics 32-2A District Champions!

Early Release on Friday, February 17, 2023.

Early Release on Friday, February 3.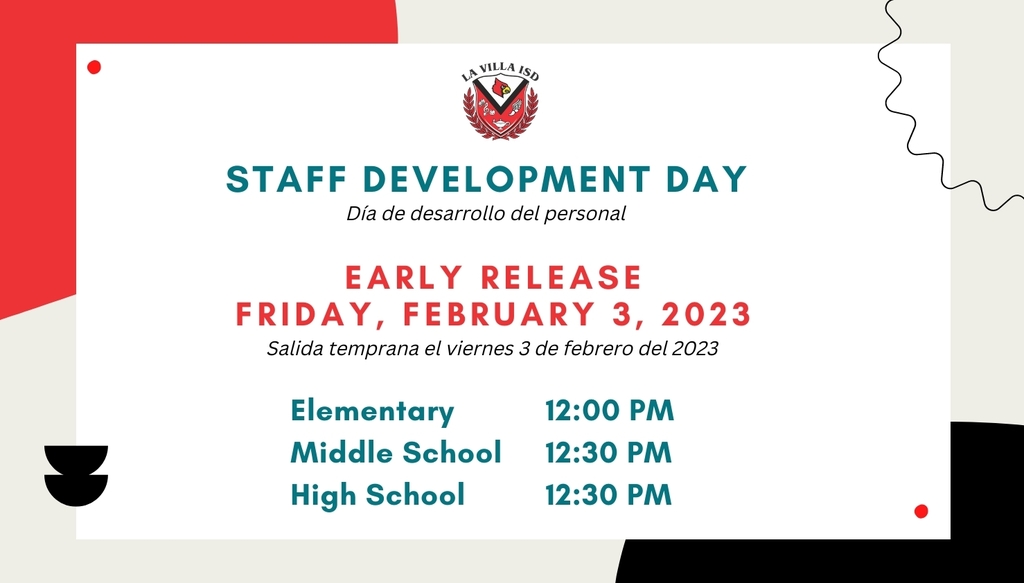 ​Professional Development Training Sessions for LVISD Staff: January 18-20, 2023. The Presenter: Cheryl Chase, Ph.D. is a licensed clinical psychologist in private practice in Independence, a suburb of Cleveland, Ohio. She specializes in the diagnostic and neuropsychological assessment of various conditions impacting children, adolescents, and young adults including ADHD, Pervasive Developmental Disorders, Learning Disorders, and emotional concerns. In addition to her clinical practice, Dr. Chase is also an accomplished speaker at the local and national levels, leading workshops on such timely topics as executive functioning, dyslexia/dysgraphia, and creative ways to support those who struggle in school. Finally, Dr. Chase serves as an adjunct instructor at several colleges in the Cleveland area. She is an active member of the International Dyslexia Association, the American Psychological Association, and Learning Disabilities Association of America. For more information, please visit ChasingYourPotential.com or Dr. Chase's LinkedIn page.

Esports got underway at LVECHS this Fall. Students started competing against schools all across the state in Chess and Fortnite. New games like Super Smash Bros. will be added for competition this Spring. See Mr. De Leon to join the La Villa Cardinals Esports team.
📣CALLING ALL LA VILLA PARENTS!!!📣 COME AND JOIN US FOR A FUN FILLED PARENT AWARENESS EVENT TO LEARN MORE ABOUT DYSLEXIA AND OUR AMAZING DYSLEXIA PROGRAM OFFERED AT LA VILLA ISD!!!❤️ Tuesday, December 6, 2022, 5:30pm-7:00pm @ multi-purpose building! For information please contact: Mary Contreras, 956.262.4760 or Juanita Hernandez, 956.262.9357. #WEaredyslexiaSTRONG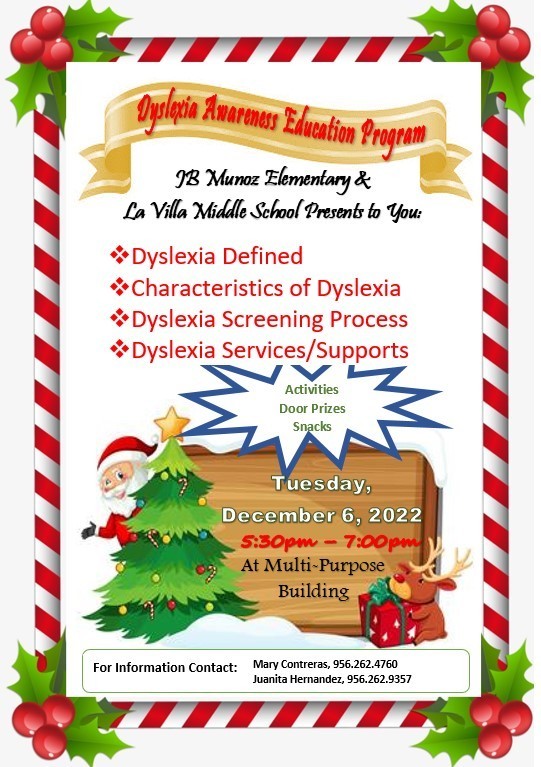 Attention High School and 8th Grade Students and Families: We welcome everyone to come out and join us in our 1st Annual College & Career Fair today from 5:30 - 7:30 pm at our high school gymnasium. There will be many representatives from different programs and local universities, colleges, and technical programs. Don't miss out! Let's help promote success and encourage our students to plan for a bright future!
HALF DAY PROFESSIONAL DEVELOPMENT DAY: NOVEMBER 16, 2022 Empowering our staff at La Villa ISD one training at a time!!! La Villa ISD is committed to ensuring instructional practices meet the unique learning needs of students with dyslexia and/or at risk for reading disorders. LVISD staff, this session will begin promptly at 1pm, please follow the specified training course instructions as per the email. For questions or support contact Rebecca Espericueta at 956.262.4755/
rebecca.espericueta@lavillaisd.org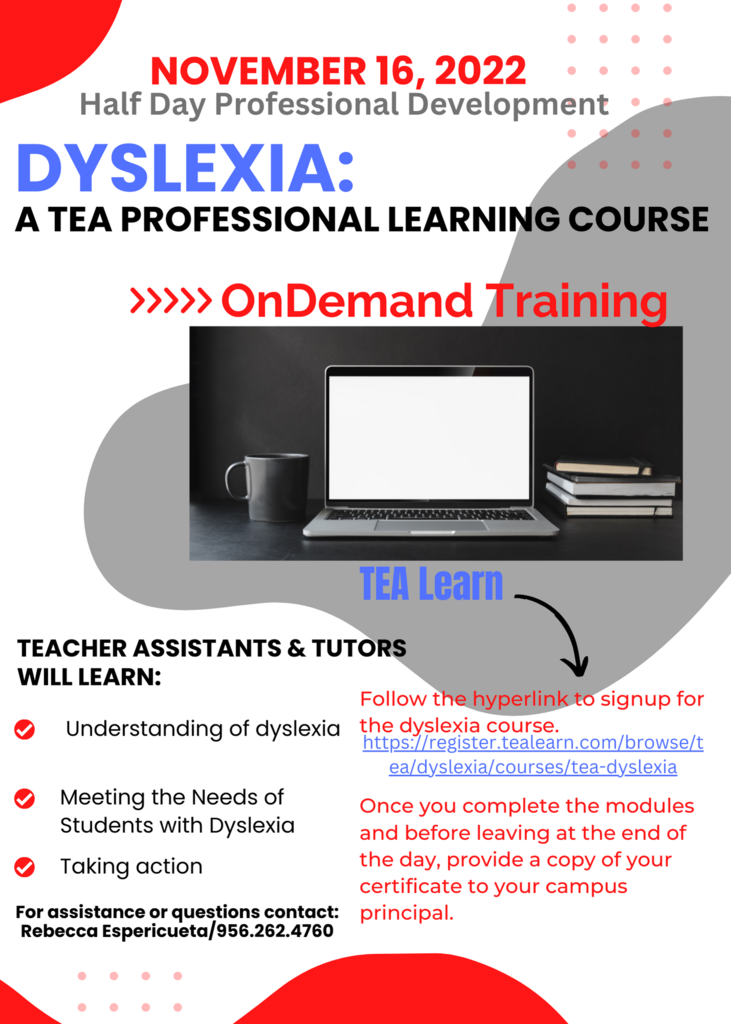 Providing our LVISD teachers with the knowledge and skills to help our dyslexia students overcome academic obstacles!! November 12, 2022 Dyslexia Professional Development Multisensory Teaching Approach PK-2 Teachers Presented By: Patricia Garcia , Dyslexia Instructional Coach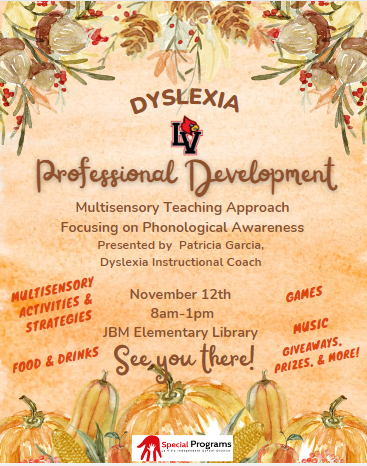 Join us for lots of fun and treats this Saturday, October 29th from 6:00 pm-8:00 pm at our Trunk or Treat and Fall Festival 🎃🍂

LVISD wants to notify our community that no electioneering will be allowed on school grounds.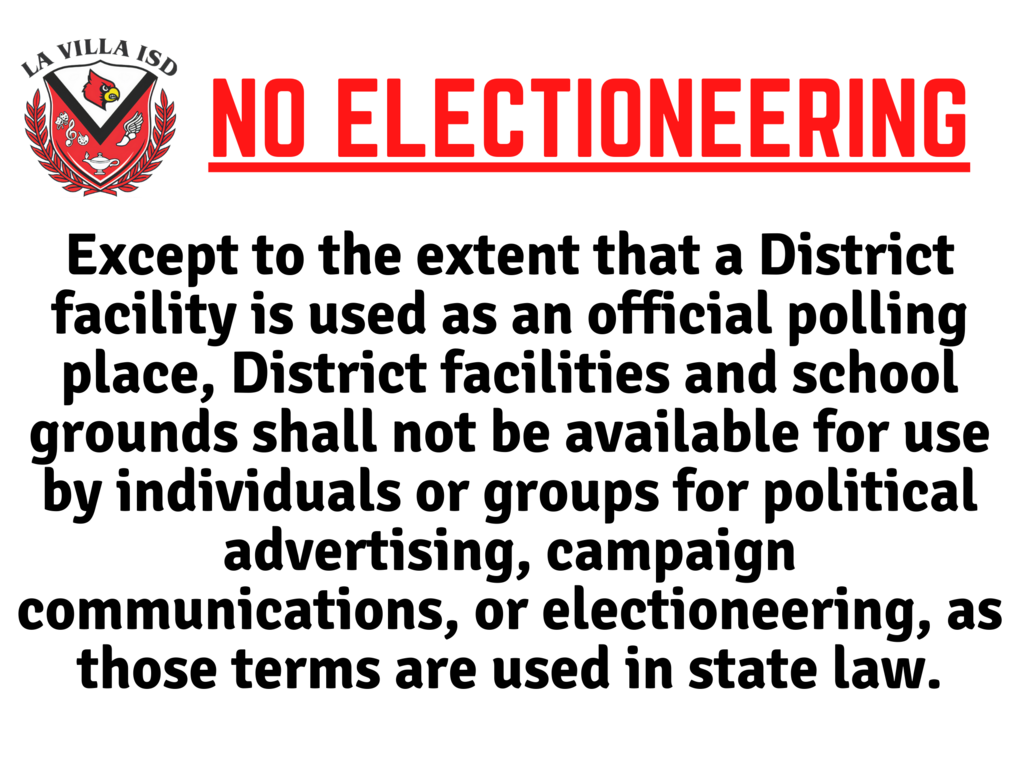 October 21, 2022 LVISD Early Release & Professional Development Day!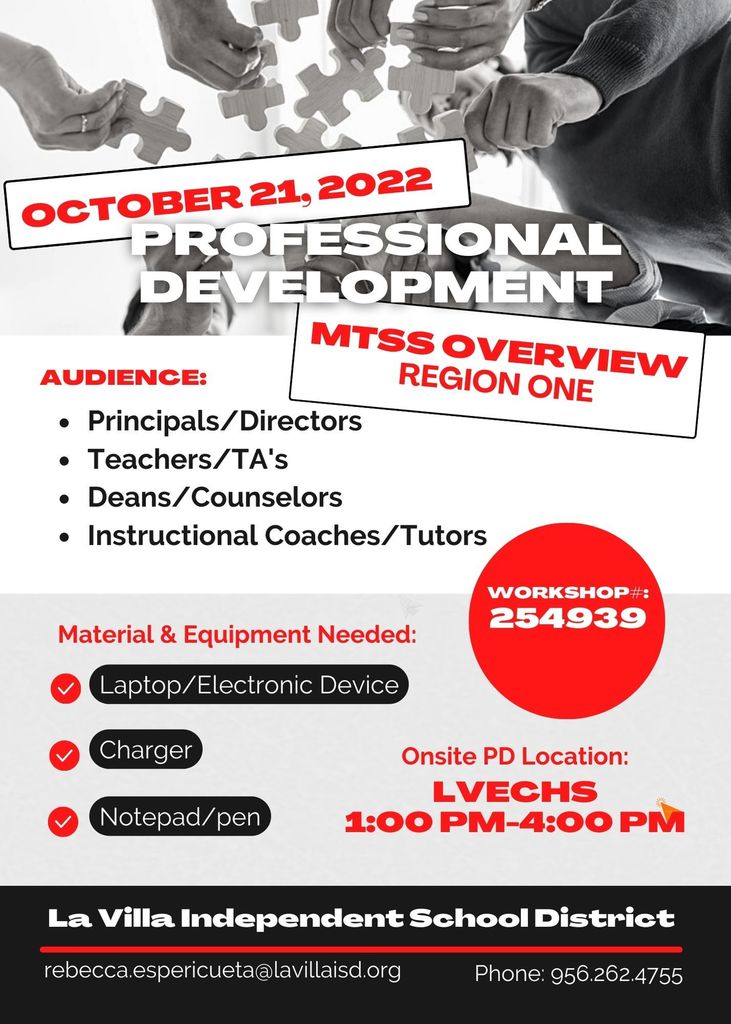 La Villa ISD will be having early release on Friday, October 7 and there will be no school on Monday, October 10. Classes will resume on Tuesday, October 11 at the regular time.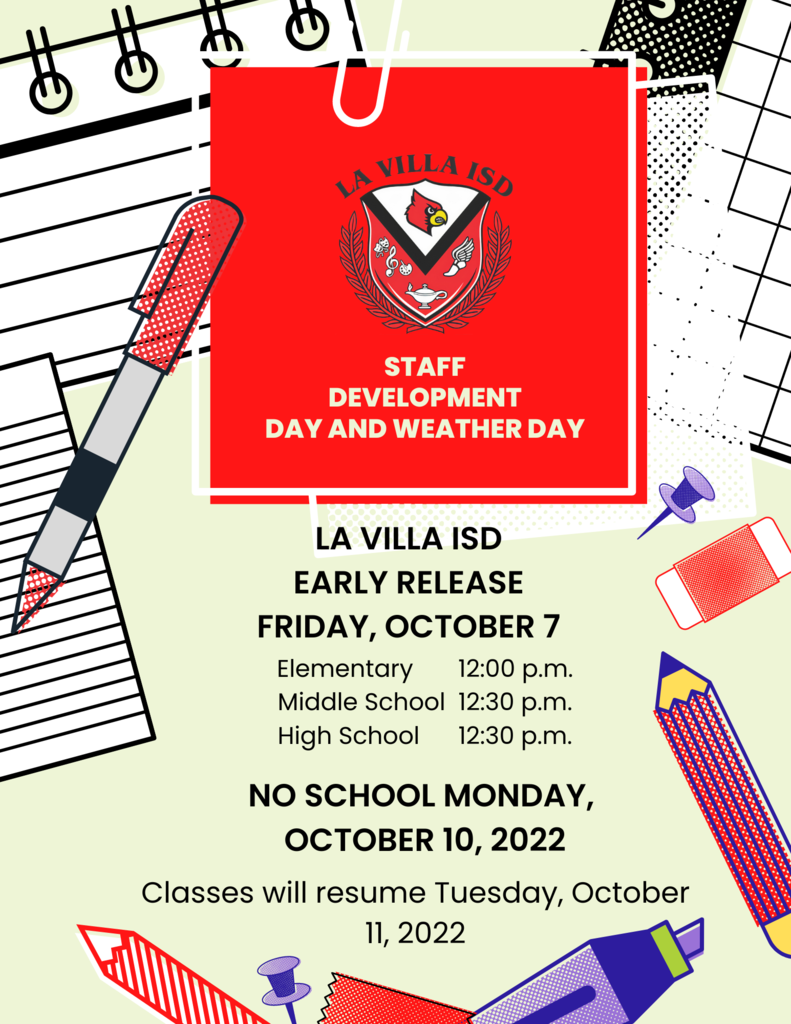 La Villa ISD supports National Dyslexia Awareness Day, Oct. 4, 2022. RED OUT DYSLEXIA DAY, Tuesday!!!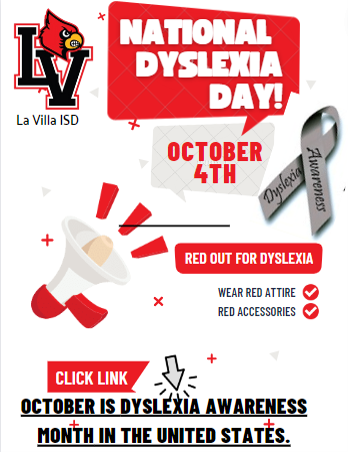 October 3rd - Wear a blue shirt for World Day of Bullying Prevention #BlueUp #BeKind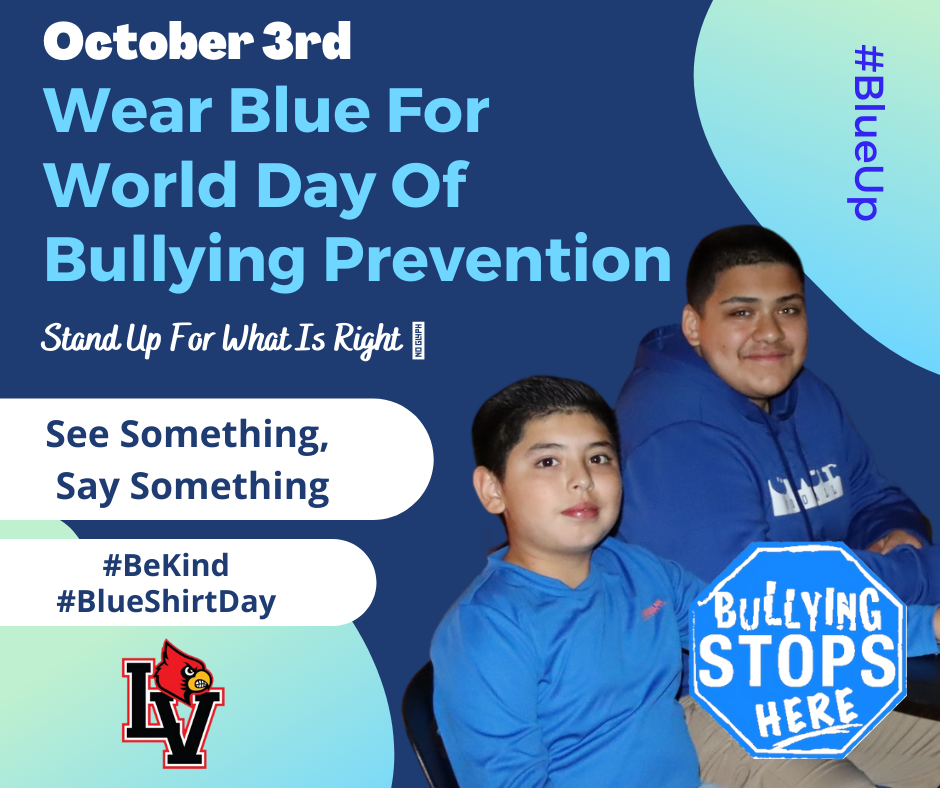 October Band Schedule for Competition Events #LaVillaISD #CardinalBand

Come and Join Us at our Community Pep Rally and Tailgate on Wednesday, September 28th from 6:00 - 8:00 pm. If you want to reserve a spot call (956)262-4755. See you there!!!